[vc_row gap="20″ equal_height="yes" css_animation="fadeInUp"][vc_column width="3/4″][vc_column_text]
Chapter – Introduction
1.1 Business Analysis
Let's first understand the meaning of "Business" and "Analysis" independently.
Business: A business is also known as an enterprise, a company, or a firm, an entity that either produces goods or offers services either for profit or not-for-profit. For example, a manufacturing company offers a product and/or services to the customers. A car company produces cars and also manages service stations for servicing cars or selling their spare parts.
Similarly, a service company such as a hotel or hospital or courier company offers services for a certain charge, while a government entity offers services with or without charges. For example, a government official issues a birth certificate after verifying a newborn's birth details and receipt of the charges for processing the certificate. However, in most cases, state government provides free police service to keep cities safe.
A non-governmental organization (NGO) or a government department may offer their services such as free educational services to poor children. (The taxpayers may not be considered it as "free" services.)
The products or services are dependent on their market segment, services, and companies' policies. For example, five-star hotels and bed-and-breakfast motels offer services at different costs. There is a significant difference in the cost because of their market segment, customers' backgrounds and needs, and the overall quality of services.
Analysis: It means simply breaking down the information of an object, entity, process, or anything else to understand its functioning.
The information can be broken down in a various ways and followings questions depict some of the dimensions:
What are components?
How are they connected?
What is the role of each component?
How does each component function independently?
How do these components function together?
To understand this, we simply break down the information in a systematic manner. For this, we can use a "functional decomposition", one of the business analysis techniques.
Let us use this technique to understand the admission process. ANISAN is a consulting and training firm. It provides training services to its customers and every participant who wishes to join the training is required to complete the admission process. How this admission process can be broken down systematically is shown in the picture below.
In the above table, the admission function/process is broken down into three processes – enquiry, enrollment, and training. Subsequently, each process is further broken down into tasks. These tasks are indexed in a unique way to identify them easily.
If you wish to analyze an organization, you could consider one or more of the following points as necessary:
Organization structure (What are business units? How are they connected? How do they communicate with each other?)
Organization structure (What is the organization structure? What is the communication channel with the corporate office?)
Customers/vendors/clients (Who are the customers or clients and what are their expectations?)
Products/services/both (What are the products or services an organization offers?)
Operations (How are these products/services delivered to the end customers/clients?)
Business Processes (What are the main business processes?)
Industry Regulations (What are the industry-specific regulations that are mandatory for an organization to comply?)
Policies (What policies are applicable and how they are applicable, and what policies are not applicable?)
Culture (How does the organization function? What are its core beliefs?)
Technology (What are the major technologies utilized in supporting operations?)
To understand an organization and compare it with external entities or competitors, we need to consider the following points:
Market Analysis (Analyzing the market trends on various parameters such as product, features, cost, customers, etc.)
Current Trends (Analyzing the current trends using certain criteria such as growth, direction, product, features, etc.)
Future Trends (Predicting future trends based on the past and current trends, and their growth history)
Benchmarks (Comparing the products or services or other criteria with similar ones in the market)
What is a Business Change?
It is a change to achieve business goals to improve processes, technologies, and productivity. There are various reasons for business changes. They could be due to changes in product or services, organizational goals, technology enhancement, new requirements, new regulations or new business needs. (Please refer to the question on business need for more details.)
These business changes typically imply technology implementation, mergers & acquisitions, business process re-engineering, etc. Business change impacts the business, people, and technologies partially or completely, depending on the nature of the business change. Implementing business change requires a cohesive effort.
This term may be known as business change, business transformation, or simply changes. To avoid confusion and conflict between business change and requirement change, both these terms are explicitly mentioned throughout the book as either business change or requirement change.
The major difference between business change and business transformation is – while business change is applied to small or big business changes, initiatives or projects, business transformation is applied to only big changes.
Although this book primarily focuses on business change from a business and technology perspective, we have made an attempt to include a few aspects of other factors as well.
(Please refer to the 'business case' question for measuring the success of the business change.)
What is Business Analysis?
As per the International Institute of Business Analysis (IIBA), A Guide to the Business Analysis Body of Knowledge (BABOK), version 2.0, "Business Analysis is a set of tasks and techniques to understand business needs (problems or opportunities) by analyzing the organization structure, culture, policies, and operations to recommending of the solution to the stakeholder of an organization in order to help it achieve its goals."
As per the IIBA's, BABOK Guide version 3.0, "Business analysis is the practice of enabling change in an enterprise by defining needs and recommending solutions that deliver value to stakeholders. Business analysis enables an enterprise to articulate needs and the rationale for change, and to design and describe solutions that can deliver value."
In addition to the above-mentioned factors, to analyze the current-state, the business analyst will have to study the products, services, operations (how products/services are delivered to the customer, how policies, and regulations, including internal and external regulations, affect the operations, etc.) and business needs. While recommending a solution, the business analyst will have to synthesize the market data before defining future-state. This ensures that the potential solution is suitable for current and future needs.
As mentioned in the "business analysis" book published by the British Computer Society (BCS), "Business Analysis as a practice helps facilitate change in an organization by defining business needs (problems or opportunities) in collaboration with its stakeholders through strategy analysis and requirement engineering (planning, elicitation, analysis, management, and validation). The recommended solution could be an IT or non-IT, minor or humongous and customized or off-the-shelf product."
What is the importance of a Business Analyst in an organization?
The business analyst plays a significant role in an organization by examining business needs and recommending solutions or improvements that are directly related to revenue, business risk, brand image, customer service, and/or business operations.
Also, the business analyst acts as a bridge between business stakeholders and IT stakeholders (IT team) by communicating and collaborating with business stakeholders and the technical team for defining and deploying the solution. This communication bridge is primarily to understand and communicate effectively with stakeholders from diversified backgrounds for understanding and accepting the collective vision of solution.
The business analyst also helps create an environment of transparency, openness and trust among team members to build a common platform to share ideas, and understanding of business change that eventually helps in mitigating the project risks.
The business analyst significantly contributes to the requirement management processes, including the requirement documentations for business and technical stakeholders to share the common project vision. These documents are created in standard templates and supported by models such as Unified Modelling Language (UML), process diagrams, Entity Relationship Diagrams (E-R Diagram), etc. These documentations serve as a basis for defining, designing, developing, testing, and deploying activities of the solution. Afterwards, they serve as the basis for a user manual.
What is Impact Analysis in business analysis field?
Impact analysis assesses the impact of the change (business or solution or requirement) on the business or solution. Depending on the nature of the change, it may have a limited impact on a particular business unit(s) or on the original requirement or on the entire organization. Impact analysis is conducted while defining the business needs, solution scope, requirement traceability, change management, and post-implementation.
[/vc_column_text][vc_column_text] To know the answer, read the story…[/vc_column_text][/vc_column][vc_column width="1/4″]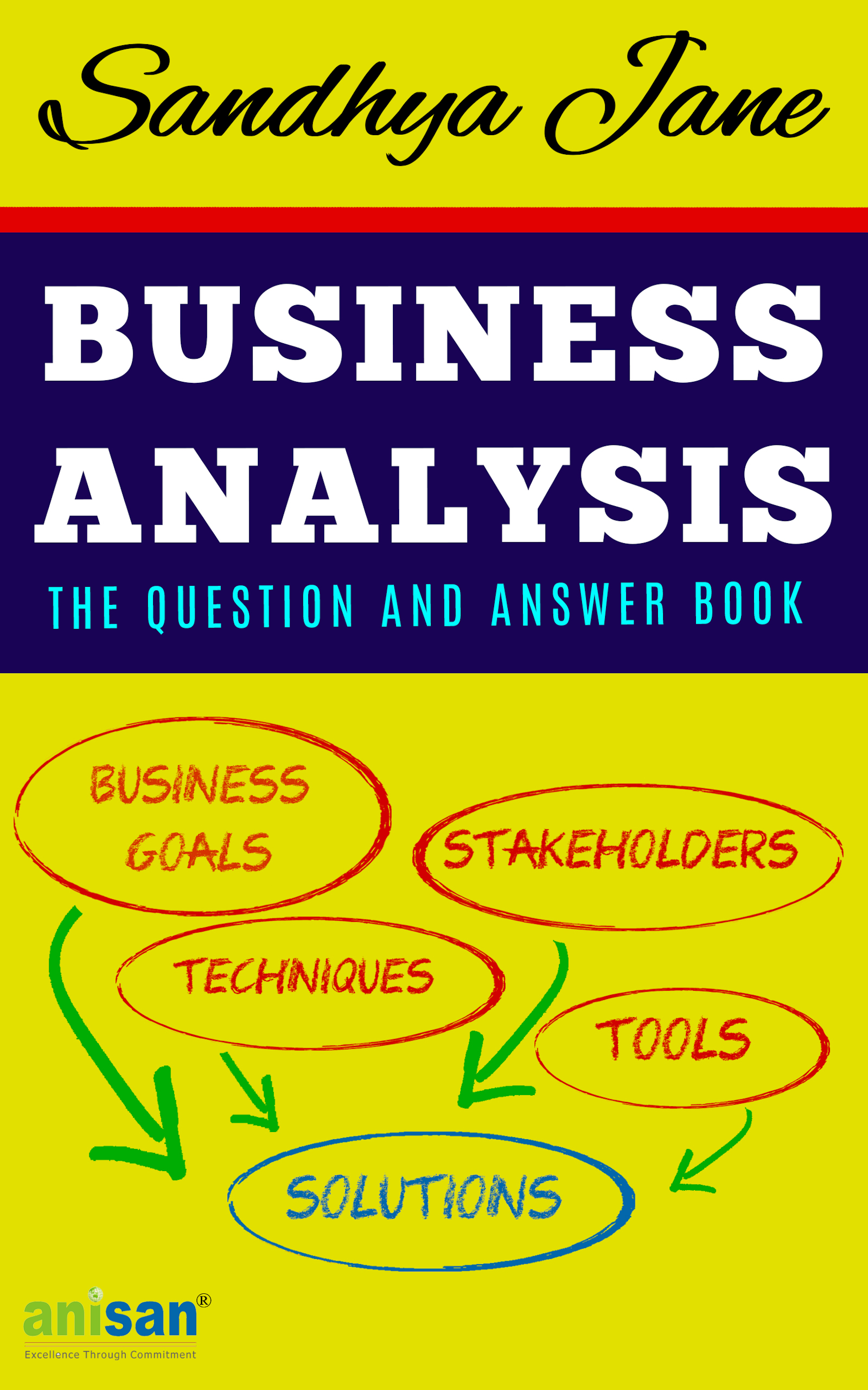 [/vc_column][/vc_row][vc_row][vc_column][gem_button corner="3″ icon_pack="elegant" text="Buy Now"][/vc_column][/vc_row]