Change is an integral part of business and professional life. A successful professional is one who handles the change by responding to uncertain events effectively and preparing for the future known and unknown events well in advance. Business analysts helps businesses implement and manage the change effectively through systematic process.
The primary goal of this book is to help the business analysts to plan and stay competitive during their business analysis career through 200+ questions with elaborated answers.
An aspiring business analyst or an experienced business analyst has to go through the rigours of the interview process in order to prove his knowledge, skill, ability, and worth to a prospective employer. The intent of this book is to provide a comprehensive guide to help aspiring as well as experienced business analysts prepare for interviews for suitable roles. The Question & Answer format of the book seeks to guide readers in planning and organizing their thoughts in a focused and systematic manner.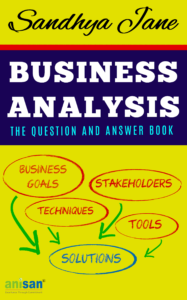 Additionally, this book also aims to not only clarify existing concepts but also help candidates to enhance their understanding of the field. Thus, the book can also be used for preparing for professional certification exams offered by various international institutes.
Order your book on Amazon
Amazon Global
Amazon India