[vc_row gap="20″ equal_height="yes" css_animation="fadeInUp"][vc_column width="3/4″][vc_column_text]
Chapter – Introduction 
1.2 The Business Analyst's Role
What is the Scope of business analyst role?
The scope of a business analyst's role can be broadly categorized into three main areas:
Strategy Analysis
Business Analysis
IT System Analysis
[Paul, Yeats et al. 2011]
The following is a partial list of the scope within the lifecycle that covers all the areas mentioned above.
Business Strategy Analysis – Part I:
Such business analysts come from a business/domain background to define the business need, high-level solution scope, and present the business case to the sponsors.
Business technology optimization and management
Process management
Define business need (problem or an opportunity)
Define solution scope that would cater to that particular business need
Define and present business case (cost vs. benefits analysis)
Secure funding
Business Analysis:
These business analysts come from either business or technical backgrounds and start the core business analysis or requirement engineering once the business need is defined or project funding is arranged. These business analysts are primarily involved in eliciting requirements and defining solutions. Besides, they are also involved in identifying the IT team (internal or external) and managing it during solution development and implementation.
Elicit requirements, document them, confirm them, scope them, present them, and get them approved or signed-off.
Define solution or BRD or product roadmap
Further requirement analysis (FRD, requirement models, etc.)
Identify or recommend IT team (internal or external)
Finalize solution and its scope
Business Strategy Analysis – Part II
Verify and validate the solution against the enterprise need, current ability, and new business case analysis (cost vs. benefit) to accept the solution.
IT Business System or System Analysis:
These business analysts come from technical backgrounds and may possess software coding or testing skills. They primarily collaborate with members of the technical team to communicate requirements. They ensure that the software solution meets the requirements specified in the business solution. They also act as a bridge in translating and transferring business requirements into solution requirements (functional, non-functional, and technical constraints) to help the technical team understand business requirements correctly. In addition, IT business analysts also collaborate with implementation subject matter experts (SME) or production manager to elicit the transition requirements that are needed for moving the software solution into the user community.
Support technical team in requirement and change management
Oversee the development and testing activities
Ensure implementation of high-quality solutions
Close out documentations
End-user training
Enrich and enhance the solution during its lifecycle
Ensure orderly termination of solution when it reaches the end of its lifecycle
Business Strategy Analysis – Part III
ROI to review the business case (cost vs. benefits)
Lessons learned
Data Business Analyst: The business analyst engaged in decision support systems works closely with business stakeholders to understand their roles and needs in terms of reports needed for effective decision-making. They also work with the market research team in projecting trends in the past, present, and future. In addition to business analysis skills, they are required to be well versed in SQL, data warehousing or other tools, and advanced MS-Excel and MS-Access to analyze data.
These are business analysts who deal with big data and statistics. They tend to crunch the numbers using algorithms and data models. In this sense, their role is similar to that of a data scientist. They tend to indicate the market trends for presenting them to stakeholders to facilitate the decision-making process.
Apart from the above, there may be specialized designations assigned to a business analyst, such as business process analyst (who is focused on process engineering) or product business analyst (who is involved in software product development), depending on their role.
Can the business analyst's role be aligned with the software life cycle?
SDLC Phase
Business Analyst Role
Initiation (Business Need Definition)
A business Need (opportunity or problem):

·       Defining the opportunity or a problem in details

Solution Scope / System concept Definition
Solution Scope:

·       Identifying scope of the solution in terms of features and functionalities.

·       Identifying the capacity in terms of performance, reliability, availability, scalability, environment, and operational needs.

·       Feasibility, initial risk analysis

Business Case

(ROI or cost vs. benefit analysis)

Cost vs. Benefit:

·       Appropriateness studies for viability, and suitability

·       Business case – Feasibility and profitability of solution.

Project Planning
Business Analysis Planning

·       Requirement Planning (Plan for BA approach, Identify Stakeholders, Plan for BA governance, Plan for Information Management, Plan for BA performance)

Requirement Elicitation
Requirement Life Cycle

·       Eliciting (Gathering), Communicating, confirming, Analyzing, scoping, and documenting.

·       Defining solution

·       Preparing BRD (Business Requirement Documents)

·       Verifying and Validating the solution against organization need, strategy, capability and capacity i.e. appropriateness

Analysis and Designing
·       Analyzing Requirements and preparing solution requirements

·       Designing through defining functional requirements, Non-Functional Requirement, (FRD – Functional Requirement Document)

·       Supporting the requirement description through Prototyping, modeling (UML) & Requirements verifications & validation (Design Catalogue)

·       Supporting Technical team in solution design, development and testing activities

Development
Development Phase Activities

·       Monitoring technical work to ensure the development is happening as per Functional requirements,

·       Reviewing and signing off the Test scenarios/test cases,

·       Preparing user manual, and completion of USE CASES.

·       Managing the changes to the requirements or solution.

Testing
Monitoring testing activities

·       Participating actively in daily testing-development team review meeting

·       Resolving issues, if any.

·       Conducting the user training.

·       Conducting the user acceptance testing.

Implementation
Roll out of the idea or request,

·       Monitoring the solution performance in production environment

·       Managing issues and problems during implementation.

·       Providing the status reports to the business stakeholders.

·       Conducting the user training.

Close out
o   Submitting the post implementation documentation

o   Conducting the post implementation review

Operations and Maintenance
o   Enriching and enhancing the solution by adding or removing features and functionalities (mini-projects) that are needed by the organization and stakeholders

o   Continuing the process as long as the solution is in its lifecycle

Decommissioning
o   Planning for decommissioning

o   Informing relevant stakeholders about the last day of operation and future actions

o   Creating a list of data for archival: List of the data to be archived and the details of access right.

o   Planning and archiving the data after the last day of operations

o   Monitoring the technical team who archives the data as per the archival requirements

o   Monitoring technical team who disconnects, formats, and assigns the resources to other projects.
Who is Business Analyst?
A business analyst is a professional who is involved in any of the activities mentioned under the purview of business analysis.
As mentioned in the previous question, the role of a business analyst is primarily branched into strategy analysis, requirement engineering, and IT analysis. More details are mentioned below.
"Once charged mainly with defining and communicating requirements, business analysts (BAs) are increasingly expected to contribute everything from decision support, and return-on-investment (ROI) measures to new product development ideas. This high profile within organizations and across industries is in part attributable to its organizational role changing from an often-costly requirement to a potentially huge bottom-line booster. It's also fueled by a growing knowledge of how to better build and maintain the bridge between the IT and business worlds. While requirements remain the focus, business analysts are now expanding into all stages of solution design, development, and implementation." [Schreiner, 2007]
A business analyst can also be defined as: strategy analyst, stakeholder (one who is involved in strategy analysis), requirement engineer, project manager-business analyst (PM-BA), business analyst-quality analyst (BA-QA), product owner, product manager, consultant, management consultant, business system analyst, system analyst, UAT analyst, business analyst lead/manager (managing a business analysis team), change manager, IT analyst, etc., depending on their role and responsibilities within the organization.
What skill sets is a professional expected to possess when applying for a first business analyst position?
Check out the following business analysis competencies to review what tools or skills you need to focus on.
Behavioral and Personal Attributes: Communication, relationship building, influencing, team work, political awareness, analytical skills, critical thinking, attention to detail, problem-solving, self-confidence, and leadership qualities.
Business Knowledge: Domain knowledge, subject matter expertise, finance and economy, business case (cost vs. benefit analysis) development, vendor management, and organizational modelling.
Business Analysis Techniques: Project management, strategy analysis, stakeholder analysis and management, elicitation techniques, UML, process modelling, etc.
Additionally, the business analyst may also need to acquire project-specific knowledge and skills. For example, if the project requires them to work on a tool such as a business object or new domain such as new regulation, they will have to acquire the same.
The scope of business analysis is infinite, as it broadly deals with "improving business with or without the help of technology." Any work within that spectrum is business analysis. For example, this could apply to improving a small process within a department or implementing a regulatory framework across the industry or building a product. Apple had an app for music but couldn't use it independently. On the other hand, Hitachi developed a mini storage that could hold 1 GB of data, yet they didn't know what to do with it. Steve Jobs integrated both inventions to create iPod, which is one of the most commercially successful gizmos of our times.
It is important to obtain formal training and acquire the required knowledge and skill as well as PDUs to obtain professional certificate in business analysis, i.e., having official endorsements of one's knowledge and skills.
What does a successful business analyst do?
A successful business analyst adds value to the "business" through managing "business change", i.e., better business practices (Strategy Analysis) and better business technology management for an organization to enable them to achieve their goals. They provide solutions to support the launch of a new product/service or improve the production/delivery of the existing products/services and better customer service (i.e., operations).
To achieve that, the business analyst will put in additional effort in acquiring in-depth domain knowledge to understand stakeholders' requirements, complexities, business rules and related intricacies. The business analyst will use relevant domain language while collaborating with stakeholders and technical terms to collaborate with a technical team.
The business analyst will use tact in eliciting sensitive and challenging requirements. He needs to have an insight into the organizational dynamics and relationship among stakeholders.
The business analyst will understand business analysis deliverables and deliver them on time with an acceptable quality.
The business analyst will define the user requirements and minimum acceptance or quality criteria for each of them to ensure the solution meets end-user needs.
The business analyst must be reliable, sensitive and self-assured to collaborate with stakeholders effectively.
To simplify it further, the business analyst defines business, stakeholder, solution and transition requirements to define, develop, and deploy the solution or handle the business change.
Business Requirements: These are high-level requirements associated with the organizational goal. These are well-defined and well-structured requirements that define the solution to achieve business goals.
Stakeholder Requirements: Stakeholders will have their needs or requirements to interact with the solution based on their profile (role, responsibilities, and authority level). For example, a compliance subject matter expert (SME) will ensure that the new or improved processes are in-line with the internal and external compliance requirements. Or the customer service head will define requirements based on the organization's policies and process related to the customer services.
Solution Requirements: What capacity and condition a solution must have to achieve the above (business + stakeholder) requirements. They are specified as functional and non-functional requirements. In addition, the business analyst also defines business and technical constraints.
Transition Requirement: The additional requirements needed for the solution for transitioning it into the user community.
Business analysts drive the business change throughout the entire life cycle of a project by collaborating and communicating with the business and technical stakeholders.
They will assist in business adoption/change management activities and analyze/report on the impact of introduced solutions on the business.
[BABOK v2 2008] [BABOK V3 2015] [Pohl and Rupp, 2011][RUP]
Can a business analyst drive the entire project? (This is for the PMBA role)
Yes, he can. Although the role of a business analyst is not very different from that of a project manager, the former also needs to add additional project management responsibilities to his existing briefs such as resource management, scheduling, budgeting, risk management and status reports management.
Delegating work to team members and monitoring the same closely are among his additional responsibilities. This involves activities such as development, testing, and implementation to ensure that the solution is in-line with requirements (FRD or SRS) and up to project management standards. In addition, the business analyst may solicit support from members of the technical team to learn some of the project-management-related activities. He can also learn through project documents, if available.
A business analyst on the IT side may report to the project manager or business analysis manager (or business analyst manager). However, this may be reversed if the business analyst on the business side is monitoring the IT vendor (service provider) team and overall project delivery.
What are the Business Analyst Artifacts (deliverables)?
The following is a list of major business analyst artifacts on the business and IT side. The artifacts or deliverables are dependent on the project approach, organizational standards, stakeholder comfort, and role of the Business Analyst.
Business Need Document
As-Is (Current State)
To-Be (Future State)
Gap Analysis
Feasibility Study
Solution Scope
Business Case (Cost vs. Benefit Analysis)
Return on Investment (ROI)
Process or Activity Diagrams
Enterprise Architecture, Organizational Modelling or Structure
List of stakeholders as well as their roles, responsibilities, and description
Activity List
Work-breakdown structure for business analysis team
Communication Plan
Requirement repository planning details
Requirement Traceability Matrix Document (RTM)
Change Management Policy for the project (that includes roles and responsibilities of stakeholders involved in the change management process)
Key performance areas for business analysis
Requirement elicitation planning document
Elicitation and Requirements
List of stakeholder concerns
Requirement and Scope Management documents
List of approved requirements
Business Requirement Documents (BRD) or Product Roadmap
List of prioritized requirements
Functional and Non-Functional Requirement Documents (FRD/NFRD) or Software Requirement Specifications (SRS)
Use case catalogue
State diagrams
Data Modelling Diagrams (E-R diagrams or Class Diagrams)
Data mapping
Data dictionary
Requirement verification checklist
Testing reports
User Acceptance Testing (UAT) review report
Issue list
Status list
Additional modelling if required and done
Result of other business analysis techniques during projects (such as functional decomposition diagram, dependency diagram, etc.)
There are many other business analysis artifacts/deliverables that can be based on project need and organizational process assets/standards.
What are the main responsibilities of a business analyst?
The business analyst has a 360-degree role in the project, extending from the business to technology (IT) side.
On a business side, the business analyst is responsible for:
Strategy Analysis:
Communicating and collaborating with stakeholders to achieve project and organizational goals
Defining business need, i.e., problems or opportunities
Defining solution scope with the help of project manager
Feasibility study
Defining business case (cost vs. benefit analysis or Return on Investment (ROI) before the project gets initial go or no-go
Requirement Management:
Planning, elicitation, confirmation, organization, modelling, and documentation requirements
Scoping, prioritization, categorization, and management of requirements
Recommending of a solution
Communicating and coordinating with business and technology teams throughout the solution (project) life cycle for a change management, issues, status and more.
Clarifying any concerns and doubts, and providing supporting data/information, as necessary.
Additional Responsibilities
Monitoring testing efforts
Conducting or monitoring User Acceptance Testing (UAT) to gain acceptance, and ensuring the solution meets user expectations
Supporting and monitoring implementation
Guiding the business analysis team
Supporting business stakeholders to become familiar with the new solution
Creating a conducive environment on business and technology sides
Ensuring delivery of high-quality solutions.
Imparting user training whenever required
Post-implementation documentation
Archiving documents for future reference
What are the Knowledge Areas a business analyst need to know?
The business analyst needs to have the knowledge of business analysis, product management and technical know-how, including an understanding of testing.
Behavioral and personality related
Analytical and cortical thinking skills
Communication
Relationship building
Influencing and leadership skills
Team player and team management skills
Political awareness/understanding of organizational dynamics.
Eye for detail
Self-confidence to be able to convince others using hard data and factual information.
Business or Domain Knowledge
Domain knowledge (product/services, operations and industry standards and industry regulations)
Organization (products/services, customers, operations, policies, culture, organizational units, communication channels, key people)
Stakeholders (project initiators, SMEs, users – internal and external, including customers/supplier)
Strategy Analysis (to define business needs, solution scope, building business case, preparing Return On Investment (ROI)).
IT environment (sophistication, adaptability, vision for IT) within the organization
IT Knowledge
Business Change Management
Project Management
Requirement Engineering
System Analysis
Strategy Analysis *
Data Mapping
Data Dictionary
Basics of Database (Basic SQL, Data Mapping, Data Dictionary) to communicate requirements
Data Modelling
Test Case/Test Scenario
Strategy Analysis *
Impact Analysis
Investigative Techniques
Facilitation Techniques
Business Technology Optimization
Catwoe
Consensus Modelling
Force Field Analysis
Six Thinking Hats
SWOT Analysis
Root Cause Analysis
Competency Assessment
Estimation
Role Change
Business Model Canvas
Decision Modelling
Functional Decomposition
Business Change
Business Capability Analysis
Current State and Capability (As-Is)
Future State and Ability (To-Be)
Gap Analysis (To-Be – As-Is)
Benchmarking and Market Analysis
Financial Analysis /Business Case
Defining solution and its scope
Scope Modelling
Organizational Structure and Modelling
Stakeholder List, Map or Roles and Responsibilities
Communication Policy and Standards
Roles and Permissions
Interview
Workshop
Business Process Modelling
Concept Modelling
Brainstorming
Business Rules Analysis
Document Analysis
Interface Analysis
Risk Analysis and Management
Focus Groups
Functional Decomposition
Mind Mapping
Observation
User Stories
Glossary
Prototyping
Prioritization Techniques
MoSCoW
Time Boxing
Balanced Scorecard
Acceptance and Evaluation Criteria
Collaborative Games
Unified Modelling Language, i.e., UML (Use Cases, Activity Diagram, State Diagram, Class Diagram & Sequence Diagram)
Data Dictionary
Lessons Learned
Process Management
Data Modelling (ER Diagram/Class Diagram/Data Flow Diagram)
Non-Functional Requirements Analysis
Metrics and Key Performance Indicators (KPI)s
Surveys or Questionnaires
Vendor Assessment
Solution Assessment
Change Management
Decision Analysis
Traceability Matrix/Item tracker
Backlog Management
Reviews
Requirement Management
Templates
[* Detailed explanations are provided about each strategy in respective sections.]
Business Analyst's Tools
Analytics – Google, KISSmetrics, etc. Basic Tool – MS Office, MS Visio and MS Project
BPMN Modelling – System Archit Note Taking – MS OneNote and Evernote
Confluence and JIRA Dashboarding – MicroStrategty, Dashthis Data Modelling – ErWin, MS-Visio, Click chart and other free tools General Modelling – Lucidchart and Creately (in absence of MS Visio)
Data Extract – MicroStrategy ETL, Talend Open Studio, SQL, MongoDB Shells
EPC Modelling – ARIS
Invision – combined with Balsamiq (or designs) to make playable demos
Prototyping – Flinto, Proto.io and iRise
(IBM) Rational Toolset (it is expensive and not used widely) – ReqPro, Clearcase, Architect, Rose and XDE
Reporting – Jaspersoft, Tableau
Wireframing – Balsamiq
These are some of the business analysis techniques available to a business analyst. The business analyst must select the technique(s) based on his and other team members' (involved in a particular activity) comfort, convenience, and organizational culture.
Several other free, as well as licensed tools, are available, depending on one's needs and comfort.
What are the Personal Traits required to be a successful business analyst?
The following is a list of the most commonly needed personal traits for a business analyst. A business analyst may require additional skills, depending on the project.
Communication: The key aspect of the communication goal must be to forge collaborative relationships, as the active participation of stakeholders is necessary in order to implement the solution successfully. Based on this primary goal, a business analyst can set-up the agenda for communication. The business analyst needs to have good spoken as well as written communication skills to understand, interpret, and express business requirements in a manner that stakeholders understand them. He should possess good writing skills to communicate with stakeholders, document various artifacts (business need document, business requirement document, vision document, etc.), and reply to queries in a clear, concise, and conflict-free manner. Since a business analyst plays a people-centric role, clarity in his thought process will play a crucial role in ensuring a smooth project management.
Analytical Skills: The business analyst needs to possess good analytical skills to understand, analyze, and convert a business need and/or stakeholders' inputs into a specific business requirement. This can be achieved by analyzing various input documents such as user interviews, existing process flows, process documents, etc. A business analyst can make use of use case diagrams, visualizations, SWOT analysis, etc. as techniques to analyze requirements.
Critical Thinking: Critical thinking is essential for a business analyst to evaluate multiple options in any given situation and choose the most appropriate one to meet the business objective. For example, a doctor will diagnose the patient's symptoms and history and other appropriate data before deciding on the most suitable treatment. Critical thinking helps the business analyst to continue evaluating various requirements to get to the crux of the actual requirement.
Problem Solving: Since the business analyst interacts with different stakeholders and team members, he needs to have good problem-solving skills. He should be able to obtain a 360-degree view of a problem from both technical and business perspectives and should be able to derive a solution that meets a business requirement and technical viability.
Attention to Detail: The business analyst processes a vast amount of data and, therefore, attention to detail is a very crucial quality. He should be in a position to articulate requirements in a clear and detail-oriented manner to avoid any ambiguity in requirements.
Team Player/Management: Since the business analyst works with various stakeholders, he needs to be a good team player to effectively implement the solution to ensure the project's success. A good team player ensures collaborative working environment, amicable resolution of conflicts, support for the business object, and a shared sense of ownership for the team's goals.
Relationship Building: Throughout the solution development lifecycle, the business analyst has to collaborate with various stakeholders, such as customers, management, testers, developers, etc. Hence, it is essential that he is able to build an effective relationship with all the stakeholders. This is to ensure a smooth communication and collaboration for business analysis activities to garner necessary support for requirement management.
Influencing: The business analyst needs to have a positive influence on the stakeholders to enable him to achieve objectives of the business analysis. This helps the team to contribute positively towards the objectives and accept the business analyst's ideas with the least resistance.
Leadership Qualities: The business analyst acts as a conduit between the business community and technology team. He should be able to motivate and influence the team towards achieving of the business objective.
Understanding of Organizational Dynamics: The business analyst needs to have a good understanding of the political environment and organizational dynamics affecting the product to anticipate any challenges it may face. Organizational dynamics involve organizational structure, various business units, business models, key stakeholders, etc. Understanding the organizational dynamics enables the business analyst to understand organizational relationships and politics.
Poise: The business analyst needs to display self-confidence in dealing with various stakeholders. He should be able to take the initiative in carrying out his activities with confidence and zeal. Using hard data and factual information, he should be in a position to instill confidence into stakeholders to garner support for the business analysis activities.
[Paul, Cadle, 2011] [Jane, 2016] [Pohl, Rupp, 2011]
What are the Career Choices available for a qualified business analyst?
There are many flavors to business analysis, and the business analyst can opt for any one of them depending on his academic and professional background.
The followings are some of the career paths a business analyst can choose from:
Operations Head: A business analyst who manages the business process partially or wholly to improve overall operations by examining their current products, services, processes, and operations to recommend the solution (with or without IT) for improving the business.
Enterprise or Business Architect: A business analyst starting a career as a business analyst, and moving towards lead business analyst and heading business analysis activities as an enterprise or business architect in the organization.
Chief Technology Officer (CTO)/ Chief Operating Officer (COO): In rare cases, this is another possible avenue for a business analyst if the person comes from a technology background. He will have to work through many technology roles such as in-charge of IT projects and overall technology in a non-IT firm to become CTO. This path is suitable for business analysts who have worked their way from business analyst towards program manager, and later to head of operations. A COO is responsible for either business change within the overall business or a specified business division.
Product Owner: A business analyst working in a software company with a specialization in product development can become product owner by working as a product analyst or product manager.
Practice Head: In-charge of projects with the similar domain in a non-IT firm with a mandate to establish processes and standards for business analysis activities such as creating a center of excellence for business analysis.
Program Manager: A business analyst from a business or technical background can manage a portfolio of projects in the same domain in an IT or non-IT Company.
Delivery Head: A business analyst who builds his career path from a technical background and is in-charge of delivering projects or IT services. Delivery head roles could be in an IT or non-IT company within the same or different domains.
Management Consultant: A business analyst is starting as a junior consultant and then going on to progressively become a consultant, senior consultant, and management consultant. [Jane, 2016]
What are the Academic/Professional Certifications available to business analysts?
OR
Provide the details of Academic or Professional Training and Certification in the field of business analysis.
There are a few independent organizations that offer professional certificates as mentioned below:
Project Management Institute, USA (PMI),
PBA (https://www.pmi.org/certifications/types/business-analysis-pba)
International Institute of Business Analysis, Canada (IIBA)
ECBA (Entry Certificate in Business Analysis)
CCBA (Certification of Capability in Business Analysis)
CBAP (Certified Business Analysis Professional)
CBATL (Certified Business Analysis Thought Leader)
For more information, please visit the website. (http://www.iiba.org/Certification-Recognition/certificationlevels.aspx)
British Computer Society, UK (BCS),
Certificate in Business Analysis
International Diploma in Business Analysis
Advance Diploma in Business Analysis
Expert BA Award
For more information please visit the website. (https://www2.bcs.org/certifications/ba/)
International Requirement Engineering Board, Germany (IREB),
CPRE – FL
CPRE – AL
CPRE – EL
For more information please visit the website (https://www.ireb.org/en/cpre/)
ANISAN Technologies Inc., USA (ANISAN)
ANISAN offers training as well as certification to business analysts at all the levels.
CBA Certified Business Analyst)
Workshop in Business Analysis
Advance Certificate in Business Analysis
For more information, please visit the website.
(http://anisans.com/education-businessanalysis.php)
Several leading universities in the US and UK offer master's degrees, with a major in either Business Analysis, Process Management or Business Transformation.
Some of the leading academic courses in Business Analysis as mentioned below:
The University of Manchester
Master of Science (MSc) in Business Analysis (http://www.manchester.ac.uk/study/masters/courses/list/09839/msc-business-analysis-and-strategic-management/)
2. Victoria University of Wellington
Master of Professional Business Analysis
(http://www.victoria.ac.nz/sim/study/postgraduate/business-analysis)
City University of Hong Kong
BBA in Business Analysis
(https://www.cb.cityu.edu.hk/ms/bbabanl/)
What are the relevant professional courses available in business analysis?
In the early 2000s, it was relatively easier to enter into the business analyst role without undergoing any professional training. However, the situation has changed due to increased competition and availability of plenty of trained, certified, and experienced business analysis professionals in the job market. Therefore, without professional training and certification, aspiring business analysts may lose out to competitors.
Formal "training" and "certification" definitely helps business analysts in acquiring focused knowledge and skill in the area from an experienced professional.
Although some aspiring business analysts may underestimate the importance of professional training, but a hiring manager will not. The hiring manager will prefer someone who is already equipped with adequate knowledge and skills acquired through professional training to someone who isn't because companies save time and resources in training the new joiner. It also helps to reduce the learning curve after starting in the job.
Most of my students have MBA degrees, and an additional business analysis certificate enables them to compete in the job market more effectively.
Better Recognition: It provides recognition of your skills and competence for doing a job, which will allow you to justify your experience and improve employability.
Better Career Plan: It helps to build a systematic career plan and advancement strategy.
Better Alternate Options: Professional certifications provide an affordable and focused alternate to the university education that many can't afford due to their high cost and longer time schedule.
Better Knowledge and Skills: Professional certifications focus on the fundamentals and ensure that the certificate holder acquires the minimum knowledge and skills in the related area.
Better Investment for Organization: The hiring manager would find it more beneficial as the company can save time and money in training the prospective employee.
Better Skilled Employees/Quality for Organization: The professional certification of employees will validate the company's ability to assign knowledgeable and skilled professionals on the project.
Sometimes the clients insist that consultants or employees on their project must have the professional certification to ensure high-quality delivery.
Value of Certificate: Reputation of certification awarding body is important. Currently IIBA and BCS are both highly recognized organizations in the field of business analysis. Although PMI is more recognized and offering PMI-PBA, it has limited focus in terms of business analysis. However, academic degrees offered by colleges or universities usually have more formal recognition in a professional assessment. For example, if a professional intends to migrate to another country for the job, the immigration department would give more weightage to a university degree.
Better Productivity: It adds to increased engagement, employment satisfaction, and productivity, which are the top ways of measuring the value of professional certification, as they contribute to reductions in staff churn, training, and recruitment costs.
Staying Updated: Re-certification ensures that the professionals stay updated in their chosen field.
What is the context of business analysis?
Many terminologies used in the business analysis in academic or in the professional world are interpreted in a context. For example, a solution word will have multiple interpretations. However, in business analysis, it is used for a solution to either a business problem or business goal. In some places, it is explicitly mentioned as "business solution". Requirements are taken into the context of the solution the business analyst is working on as also taken in the context of solution scope.
Value of requirements or the solution is explicitly considered as what value a particular requirement will have in a solution in terms of benefits it delivers.
Solution value is in the context of what value a solution will deliver to the organization regarding financial and non-financial benefits on a long-term basis. This value must consider the initial investment, potential risk, and organizational goals against projected return during its lifetime.
What is a Requirement?
In terms of business analysis, it is interpreted as:
What an organization needs?
What stakeholders need?
What teams must do to achieve them?
What are the conditions, capabilities and constraints a team must follow in providing solution?
Organization needs: This can be interpreted through high-level requirements that align with an organization's goal, mission and objectives. For example, the organization's objectives could be reducing manpower and increasing efficiency by automating the reporting system. This can directly be aligned with the organization's goal to reduce the manpower by 10%, and increase efficiency by reducing turnover time to achieve better results.
These high-level organization's requirements must be elaborated and structured into Terms of Reference (ToR) or a business need document. This document provides an overview of business change.
Stakeholder's Needs: These are individual stakeholders' needs in achieving the organizational common goal and objectives. For example, the marketing team looks at bringing out product wise, region wise, and individual store wise sales reports, while the compliance team wishes to send the sales tax details on an entire sale to the tax authority in the pre-defined format mentioned in government's tax policy document.
So a team working on business change must consider these requirements as it goes about building a report-generating tool or entire system.
Now, when it comes to building the solution that will fulfill the above-mentioned needs, the business analyst must elaborate and structure these business and stakeholder requirements in business requirement documentation, i.e., BRD. It may also be referred to as a product roadmap.
Solution Requirements: These are system requirements. They are specified in terms of functional (specific functionality of the system), quality or non-functional (system performance, security, reliability, etc.), and the system constraints of the solution in a requirement document. An individual requirement or requirement catalogue or collection of requirements in template (functional requirement document, i.e., functional requirement documents (FRD) is also known as a requirement. The IEEE definition summarizes the above description as: "1. a condition or capability needed by a user to solve a problem or achieve an objective. 2. a condition or capability that must be met or possessed by a system or system component to satisfy a contract, standard, specification, or other formally imposed document. 3. a documented representation of a condition or capability as in (1) or (2)" [IEEE, 1998]
Requirements can range from high-level abstract statements of services or system capability and constraints to detailed arithmetical calculation functional specifications.
Requirements Engineering is the process of establishing the facilities that the user requires from the system and the constraints under which the system will be developed and operated.
Requirements may serve a dual function:
As the basis of a bid for a contract
As the basis for the contract itself
If an organization desires to outsource the implementation of the system to an external IT vendor, it must do its due diligence before signing the contract that defines details of requirements of the potential system. These details can be features, functionalities, regulatory needs, system capability, pre-defined quality, time to deliver, business and system constraints, operating requirements, etc. The IT vendor may provide details of what potential system can do regarding fulfilling the requirements mentioned previously. At times, a system may be capable of producing the functionally in part or more than what is specified, those constraints are documented as a part of the contract. For example, the specified requirement is to export the report in Excel format and the IT vendor can provide the capability of exporting the report into Excel, PDF, and image format. It will be part of the updated contract, and this contract will serve as the basis of requirement document throughout the project lifecycle.
[Davis, 1993] [IEEE, 1993] [BABOK V2, 2009] [Sommerville, 2003]
Who are the Stakeholders and what is their role in the solution development?
A stakeholder is an individual, group, or organization that holds a stake in the solution either partially or wholly. In other words, a stakeholder is anyone who has an interest, stake, or concern in the potential solution because he can either influence or be affected by it.
The one who can influence can either guide or provide expert judgment to optimize the solution. The one who is affected can either provide requirements that need to be incorporated so that they can either continue to perform their role effectively or provide inputs so the solution can be implemented successfully.
The contribution from stakeholders may not be limited to the definition of the solution or requirements, but across all the phases of solution development life cycle through guidance, requirements, requirement management activities, experts' inputs, and reviews to ensure meaningfulness and utility of the potential solution to relevant stakeholders.
In project management, they may be from the business, risk, compliance or technical aspects to ensure everyone's opinion is considered.
The following is a list of partial stakeholders in a project.
Sponsors: The one who sponsors the project. He is the person who assesses the cost vs. benefits and benefit vs. risk before agreeing to fund the project.
System owners: Other system owners with whom the potential system will communicate. They need to be consulted to understand the nature of communication.
Subject Matter Experts (SME): Subject Matter Experts either from business (specific roles such as process owners, auditors, regulators) or from technical (specific roles such as production support, data modeller, or network/infrastructure person, etc.)
Business Analyst: Responsible for defining the solution and managing requirements.
Project Manager: The one who manages and controls project management activities, including project scheduling, budgeting, and allocation of resources.
Testers: The one who tests requirements and solutions.
Technical Lead: A person who leads the technical team developing the solution.
Users: An individual or group (internal or external) that will utilize the solution in future. Their needs must be incorporated to make the solution meaningful and successful.
External Stakeholders: They may be users, SMEs, customers, or vendors using the solution. The SME can be a consultant or an expert in a particular field. [Freeman, 2010]
What is the difference between the roles of a project manager and business analyst?
The project manager is in-charge of overall development and successful implementation of a project. The role involves resource management (technical team), schedule management and budget management throughout the project lifecycle. Besides, the project manager is also responsible for risk and issue management, status, and any other technical issues that may arise during the project life cycle.
The project manager also supports the business analyst in defining business needs, solution scope, business case (cost vs. benefit analysis) and feasibility study by providing the required technical data for analysis as well as technical guidance at the initial stage of the project. At a later stage, the project manager or technical team member represents in requirement-elicitation process to guide the team on technical issues and other details. In change management, the project manager involves his team in impact analysis (impact on schedule and budget) and monitoring of the overall project.
While the business analyst on the business side is involved in strategy analysis, such as defining the business needs, determining the solution scope with the help of project manager, preparing a feasibility study and defining business case (cost vs. benefit analysis or ROI) before the project gets the initial go or no-go.
After obtaining the initial go-ahead, the business analyst analyzes and recommends the solution through rigorous requirement elicitation, analysis, documentation and solution assessment processes.
The business analyst on the business side monitors and controls the project by coordinating and guiding the project manager on the IT side.
The business analyst on the IT side analyzes the business and stakeholder requirements (Business Requirement Document (BRD) or Product Roadmap) and transfers them into solution requirements (functional, non-functional, and transition) using standard document structure, templates, and models to elaborate requirements and improve the requirements understandings.
The business analyst supports and collaborates with the business stakeholder and technical team during the entire system development, i.e., through development, testing and implementation phases. He also coordinates and collaborates with business representatives or end-users to conduct User Acceptance Testing (UAT) to ensure that the solution meets user expectations, and also resolves any issues arising during the exercise to help deliver high-quality products.
[/vc_column_text][vc_column_text] To explore more, read the book…[/vc_column_text][/vc_column][vc_column width="1/4″]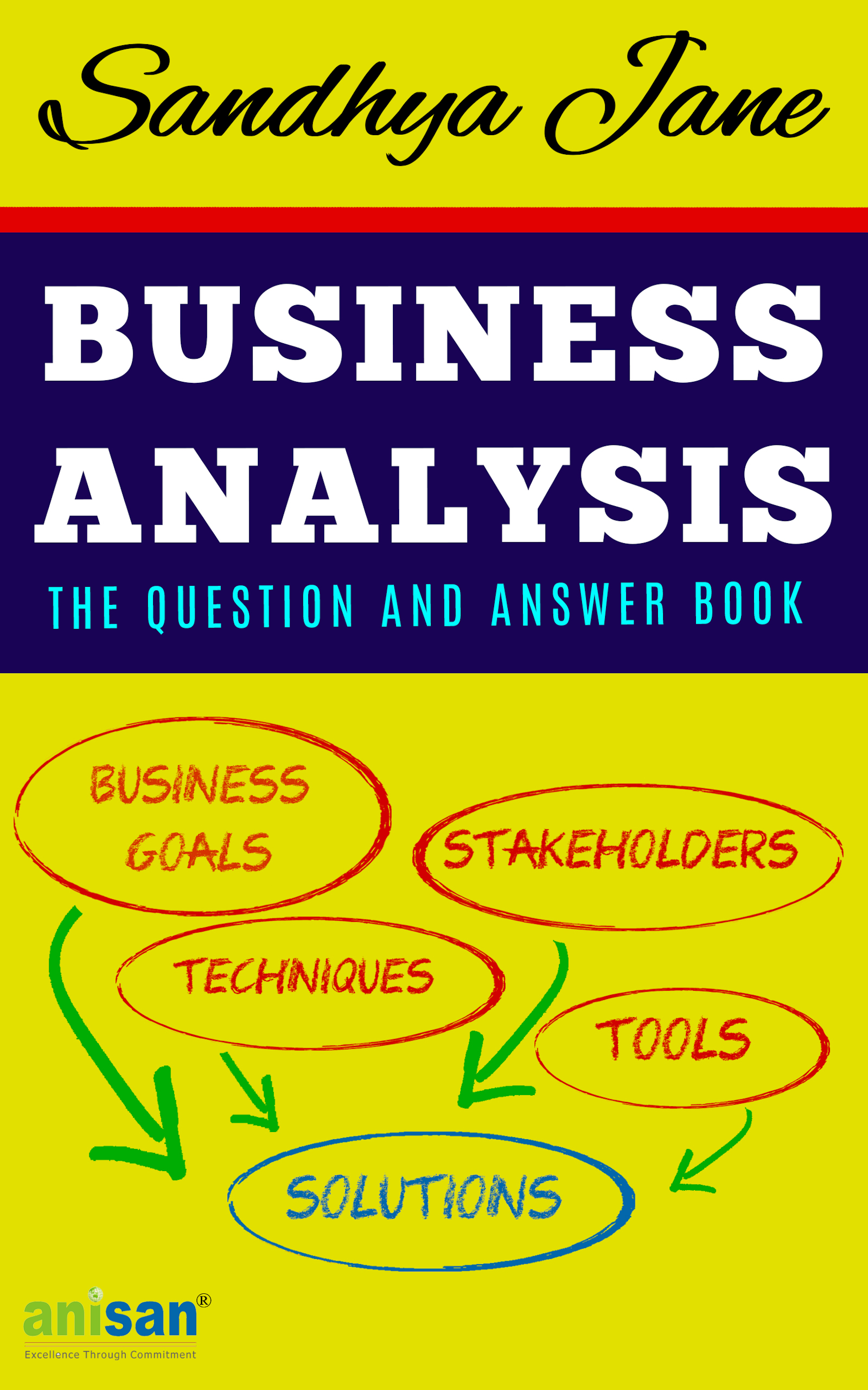 [/vc_column][/vc_row][vc_row][vc_column][gem_button corner="3″ icon_pack="elegant" text="Buy Now"][/vc_column][/vc_row]
Sandhya Jane's books on Goodreads