[vc_row][vc_column][vc_column_text]
Since all the three members of my family have no food allergies, I use various curry bases to create different recipes using vegetables or other vegetarian options such as tofu, cottage cheese (paneer), soya chunks, steamed besan (chickpea powder) chunks and so on.
I use vegetables like cauliflower, eggplant, potatoes, tomatoes, beans, pumpkin, okra, raw papaya, raw banana, cabbage, capsicum, etc. and different curry bases can be used to make them. However, I do not use curries with green veggies or broccoli.
Based on my experiments, here's the recipe for preparing various curry bases. There are two different options to make your curry. 
Option 1 (Powder):
I use 2 teaspoons of any one of the recipes mentioned below (powder/paste), for cooking a small bowl of curry for one person. You can reduce or increase the quantity depending upon your preference of thickness and richness of your curry. 
1. Soy powder. You can grinder to grind soya chunk or crumbs into a fine power and use it for your curry base. please add this powder after you fry your spices.
The curry can simply be made using 5 basic spices i.e. turmeric powder, chili powder, cumin powder, coriander powder and home-made garam masala (mixed spices). For this, I roast cumin seeds, coriander seeds or whole garam masala separately on a low flame and after cooling it, grind these ingredients into a fine powder. I store this powder in a glass jar and use it on a daily basis.
Option 2 (Paste):
1. Onion paste: Chop an onion and grind it into a smooth paste. Then fry the paste in hot oil along with 1/4 teaspoon of ginger and 1/4 teaspoon of garlic paste before adding spices. It will improve the taste. Later, you can add your veggies and water and cook.
2. Onion + tomato Paste: Chop and grind onion and tomatoes separately. I usually fry onion paste along with 1/4 teaspoon of ginger and 1/4 teaspoon of garlic paste, add spices and later, add tomato paste and cook. Once the tomatoes are cooked (for 2-3 min), I add vegetables and water and cook it until all the veggies are properly done.
3. Poppy Seed Paste: Poppy seed paste is very popular in Bengal and Bihar for cooking. For making the paste, grind poppy seeds into a fine powder. Then add a couple of spoons of water (or more as needed) and grind it. Repeat this until the fine paste is formed. You can add half a cup of water to dilute the paste. Strain the paste and use it for making curry. Please remember to add this poppy seed paste in the end. I usually add it when the vegetables are cooked. After adding the poppy seed paste, you may cook it for two to three minutes to thicken the curry before turning off the gas burner.
4. Mustard Paste: Take some yellow mustard seeds for making the mustard paste. Simply grind the seeds into a fine powder. Then add little water and grind it to form a fine paste. You can add half a cup of water to dilute the paste. Strain the paste and use while cooking. I add the mustard paste to the half-cooked vegetables and cook it for four to six minutes before turning off the gas burner. Cooking the paste a bit helps create a nice curry. Please remember that mustard has a sharp taste, so avoid adding additional spices. Just 1 green chili and some turmeric powder would complement the mustard curry. This is Bengal's speciality.
Tip: You can mix poppy seeds and mustard seeds to get a unique spicy and creamy flavor.
5. Cashew Paste: Soak 4-5 cashew nuts for 30 minutes. After 30 minutes, grind them into a fine paste and use it for cooking.
Please add this cashew paste towards the end of cooking. I usually add this paste when the vegetables are almost cooked. After adding the paste, again cook it for three minutes more before turning off the gas burner. For a richer and creamier taste, you can add one to two teaspoons of whipped cream just a minute before turning off the gas. Please do not cook whipped cream longer or the cream will disintegrate.
Tip: You can substitute cashew with almond or walnut or mix them all.
6. Whipped Cream: A quick party recipe can be made using whipped cream. It is available in any supermarket as most of the dairy manufacturing companies sell it. I generally use the Anchor brand whipped cream.
Take mixed vegetables (I use frozen carrot, peas and beans) and cook them using a little extra spices (chili powder, turmeric powder, garam masala and salt as per taste). When the vegetables are cooked (after 7 to 8 minutes), add 5-6 spoons of whipped cream and half a spoon of sugar. Just stir it, and cook it for another 30 seconds before turning off the gas burner. This is your creamy and spicy mixed vegetable that can be served with plain basmati rice or Indian fried rice.
7. Coconut Milk: You can use mixed vegetables like cauliflower, small green eggplant, potatoes, pumpkin, peas (optional) and carrot along with coconut milk. You can also add 2 spoons of grated fresh coconut to your curry (optional). This is a South Indian or Thai style curry. Please temper mustard seeds and curry leaves as it brings additional flavor to your curry.
8. Peanut powder: Roast and grind the peanuts to make a coarse powder that can be used as a curry base or for cooking other recipes as well. I use 2-3 spoons of roasted peanut powder along with spices and cook the vegetables. You can create another variation by adding dry coconut powder. This tastes good with basic spices. This is a popular Maharashtrian style food which is stuffed in eggplant.
9. Chickpea powder: I use two spoons of roasted dalwa or sattu as a curry base. In case dalwa or sattu are not available, you can use roasted chickpea powder (besan) while adding spices and fry them together with vegetables. Add water and cook them together. I usually add tomato to it once all the spices are fried and cooked before adding the vegetable. This is another healthy and tasty curry option.
Please ensure that you roast the chickpea powder (besan) on low flame until besan turns light golden in color or you will have uneven powder with raw, burnt besan which will taste bitter.
10. Roasted rice powder: Wash and roast some rice. Once it cools down, grind it into powder. This powder tastes good with coconut milk and can be used as a curry base. This is a popular Sri Lankan style recipe.
Tip: You can also mix rice powder and grated coconut and make a paste.
11. Hot and Sour curry: Just add chopped tomatoes and tamarind paste (as per your choice and taste) or half teaspoon of raw mango powder. You can also add sugar if you like.
Tip: To make it hot, sweet and sour curry, you can add little sugar to it.
12. Black masala (black spice): Cut some dry coconut into small pieces, chop an onion and fry them separately. Take a pan, add little oil and fry 1 clove, 2 black peppers and 1 dry red chilli together. Once all the ingredients cool down, you can grind them together into a paste. This is ready to use paste that can be fried in two spoonfuls of hot oil, then lower the flame and fry it further for a minute. Add turmeric powder and chili powder as per your preference. Add salt as per taste and cook your vegetables/cooked soya chucks/chicken/mutton). This black masala is popular in Kolhapur region of Maharashtra. You can add other species as you prefer.
Note: If you are using additional black pepper or reducing curry base paste/powder, please ensure to reduce red chili powder as well or it will be very spicy to handle.
13. Plain Yogurt: Plain yogurt is simply great in taste as it adds richness to the curry and reduces the sharpness of the spices. You can add it with any of the above curry base (except whipped cream and coconut milk) in the end. Please remember to beat the yogurt in a bowl with an egg beater to bring the consistency before adding it to the curry. Please do not cook it for more than 2 minutes.
14. Green Curry: We can use fresh coriander leaves, ginger, green chili and fresh coconut to make green curry. Grind all these ingredients into a paste. You can use this paste along with 1/4 spoon of turmeric powder to make green curry. I avoid adding any other spices to this, as it ruins the taste of fresh herbs. This curry base is best if you are steaming the vegetables or fish in banana leaf. This is a Parsi style recipe, similar to Patranu Macchi.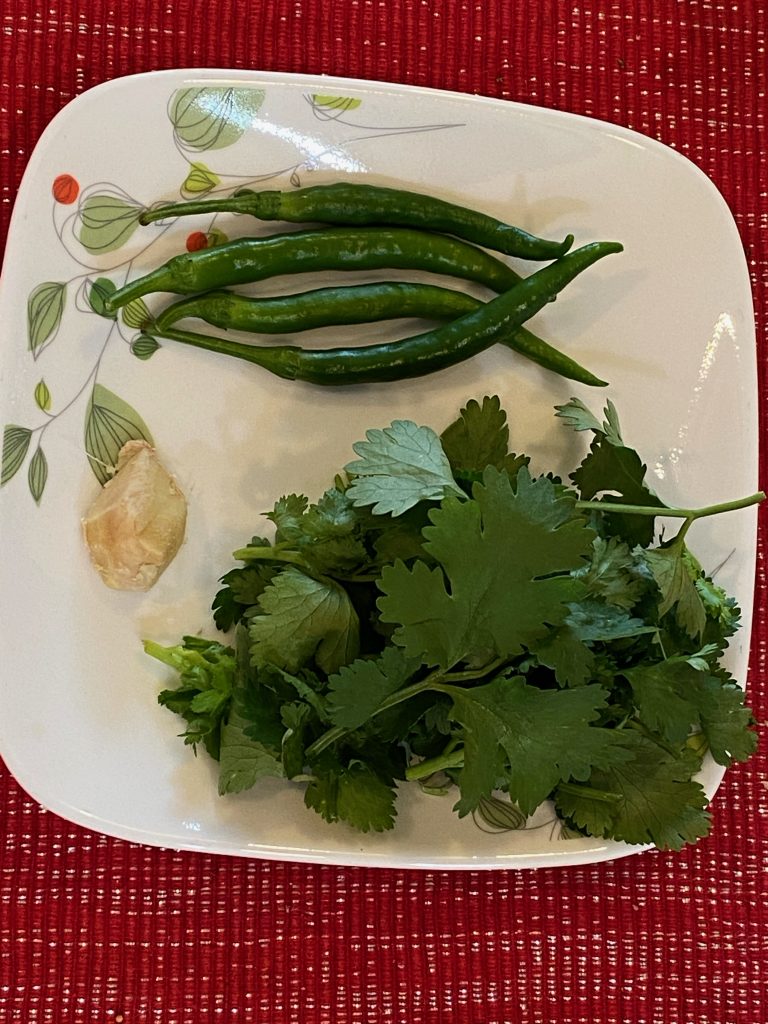 Tip: Use green chilies depending on your taste and strength to handle spice.
15. Potato, Carrot and sweet potatoes: Boil and mash them, and add these mashed vegetables to you curry. You can use them individually or mix them based on your requirements.
Tip: Since potatoes are carbohydrate rich, you can reduce or eliminate them. I personally prefer sweet potatoes or carrots or both.
Ayurveda doesn't recommend eating onion or garlic on everyday basis. you can omit them or use it sparingly.
#Curry #IndianCooking #VegitarianCooking, #food, #lifestyle, #culture, #HealthyFood, #Health, #cuisine #Recipe #InnovativeDinner #PartyMenu #SandhyaJane #SecondSpring #BusinessAnalysis #Life #vediclife #healthyliving #easytocook
[/vc_column_text][/vc_column][/vc_row]